We often know a person (we think) through their writing. Like many, I probably disclose myself in small measured doses through my writing as most of us reveal without even knowing it. I had forgot about this old post. Jack Flacco of https://lookingtogod.org/ pointed me back to a lot of memories from an old post and possibly some deficiencies which would need disclosure if you were ever thinking of, going with me into the wilderness.
This is a repost of…Adventure and Fear: The Hunt and Haunt. The original comments are worth noting…I do miss Ron and his comments.
Confessions of an adrenaline junkie
I have this….um; weakness, bent, brash drive and pure happenstance existence to dive into the unknown. At least it's unknown to me and usually those (un)lucky enough to be along. Consider these true and unembellished snippets.
A teenager and I rescued a drowning man about to hit a cascading rapids after seven inches of rain fell the night before. The very large man couldn't swim, his canoe had rolled and we didn't know if our canoe would sink in the roiling waters. (the teen screamed and yelled the whole time that we were crazy). We barely escaped with our lives. We had nightmares for a very long time. I was not afraid at the time.
Numerous times I have driven bear from our campsites in the BWCA including getting our food back from one in the middle of the night. The word crazy was the most spoken word the rest of the trip. I had nightmares for a long time. The "what if's" haunted me. I was not afraid of this huge bear at the time.
I dove off rock cliffs 55′ high (swan dives only). I beat my record of a 9′ high dive into a pool. You guessed it. In my dreams I land on my back or break too soon underwater and break my back. We were 17 portages and 30 miles into the wilderness. I was not afraid to Jump over the lone tree below the cliff to get to the deep water at the time.
I have led groups through harsh woods with no trail looking for the ultimate lake very few humans have ever seen, much less fished. Anyone wearing shorts will never do so again. I have a nephew who put on his rain pants for protection. He ended up shredding his pants so bad he looked like a giant bass lure with a rubber skirt.
I have led winter trips into the wilderness on snowshoes and skis. One time we tried to find a trout lake through the woods by moonlight. We weren't lost, just a little off as our compasses read different directions from the large amount of iron ore in the rocks around us. We found the lake the next day. It was a wonderful stroll through waist deep snow below zero by moonlight until panic came over a couple guys. We tramped the snow with the snowshoes, made a fire, a meal and slept under the stars in the snow. It was really great! I do not ever remember being afraid.
The coldest time was with a group of teenagers at -38 (F). It warmed to zero before we came out with no lives lost. Good times! I have stories and dreams on this one also.
Funny story at -30 (f) below zero in the wilderness: Someone brought tin cups to drink out of. Our lips froze to the edge of the cup with steaming hot drink in it. above the liquid line was frost. Below was very hot steam. We had to tip up the cup gently to thaw out our lips off the cup to drink. It was a learning curve to live with half frozen burnt lips. OK, not so funny at the time. But, I was not afraid.
"Would you help me lead a group into the wilderness?" I asked my boss (this was after another harrowing incident). His answer took me back. "Do I look like I want to die? crazy things always happen wherever you go". He was right.
What is it about adventure, risk taking or just being me? My oldest daughter takes after me. When she got married in college she joined a roofing crew while her husband waited tables at a nice restaurant. The other day she texts my wife "I broke my leg in a couple places" My wife messaged back what any normal mom would, "which one?" Daughter: "the other one". Is it really a family thing? Is this genetic?
Yes, there have been accidents. Several emergency life threatening incidents. In 1999 my wife and I were with three other couples when the 100mph straight line winds hit. With huge trees snapping off 20-30 feet around us and the tops blowing fifty plus feet before hitting the ground, we were at the mercy of God. Literally. We were there on horseshoe lake eating lunch and in less than a minutes time hugging small cedars and wondering if we would survive. But I was not afraid. The stories on our lake alone are harrowing. See more here.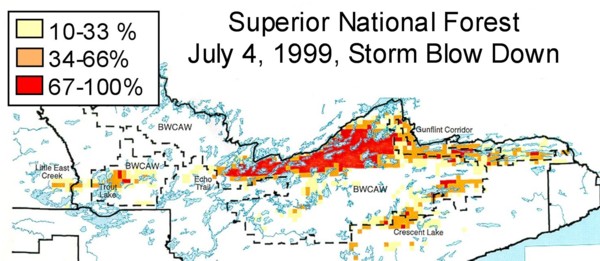 No one seems to mention that the lightning storm that night was probably more dangerous with strikes averaging one per second, sometimes several per second and short lulls in between. This was an all night storm and extremely dangerous. We laid on ground pads, life jackets and all our clothes to keep us from electricity traveling through the ground hunting us. I knew real fear for the first time.
Several trips passed and a buddy and I launched our canoe to tackle high waves. They were much higher than we thought. We made it around the bend in front of high rock cliffs and tipped into icy waters (Ice off a few days before). The waves washed us clinging to our packs and canoe against the rock face. They crashed us against the rock face up almost 10 feet and down again being battered by the canoe. We worked our way around the face shoving off with our feet and were helped by the rest of the group up to safety.
We lost expensive gear, glasses and much body heat. If we had made it further into the lake we would not have survived. Again I knew fear, but not so much from the waves or the cold. I did not know that a person could drown with their life jacket on and their head above water. Every breath we took was full of wind blown water droplets collecting in our lungs. It did not take us long to realize this would kill us in a short period of time given the conditions. Of all the dreams that haunt me, this is the big one. It's bigger than the time my brother and I put a pickup through the winter ice on a river…(another story, another time).
Maybe fear is healthy, but it is also haunting. Fear stalks when there is a lull in the action. In my case I need fear. I now have it but didn't like the way it came. It is ironic that I have the most fear at a time when I am most competent to lead wilderness trips.
I will not try to conquer fear but rather harness it for wisdom sake. I am way more careful, alert to potential danger, knowledgeable of dangerous situations and better at calculating risk and knowing what the worst possible outcome could be. I like to think I am older and wiser (no one has come forward to confirm or deny this yet). I do have some advice out of this. We have talked about this around the camp fire!
1) Don't let fear stop an adventure. Let common sense do it.
2) Listen to advice from the group before jumping. You may not know your limitations.
3) become aware of your surroundings, animal signs, weather, food usage, anyone limping or complaining of something wrong (headache is possible dehydration or sunburnt eyes from water glare).
4) Never lead a group alone. Have another competent person along who can lead.
5) Be aware of group dynamics and know how to influence them for the better. If you can't do this you should not be the leader of a group.
6) Learn to be the servant of the group. You cook great food (they should cook as well), You set the bar on cleanliness and obeying the environmental rules. Respect, model respect and you are then qualified to teach respect for each other and the environment.
7) Don't take life and death risks unless saving someone. Be willing to die trying or give out a disclaimer beforehand that you won't.
8) Be ready to stand before God if you do die. Think of it as the ultimate preparation. It's actually not a "just in case" deal as we will all die sometime. Just saying, be ready for anything…including fear for the first time.
Be careful out there. Don't do what I did. Learn from me what not to do! Now I just have calm and safe trips…("ya right"..I heard that!)
Proverbs 9:10, "The fear of the Lord is the beginning of wisdom: and the knowledge of the Holy One is understanding".
Gary